The efficient way to receive rental
Credit Card can be used to pay rental.
Direct Debit enables your tenant the option to pay via credit card, so they can collect credit card points by the tens of thousands, they will love it.
Lower the chances of late payments
Traditional approach needs a lot of manpower to collect monthly rental . We are different. We use the modern technology to collect rental.
Maintain lasting relationships with your tenants
it's not easy to chase rental via text messages and calls. We can do the tricky part so you can be yourself.
More control for rental payments
It allows payment to be directly charged from the tenant's customer's bank account, making it a more controlled way to collect rental.
Security
Built with a secured payment infrastructure that is approved by the authority.
Efficient
Landlord can collect payments from the customers efficiently by debiting their bank accounts on a recurring basis.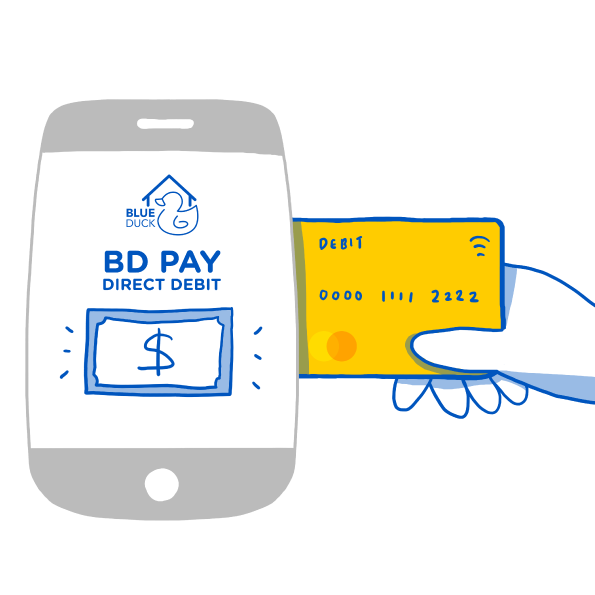 FAQ
A Direct Debit is an instruction from tenant to their bank.
A Direct Debit authorises someone to collect payments from their account when they are due.
An eMandate is an authorisation from your customer to collect future payments from their Current Account Savings Account (CASA) or credit card.
Security and Compliance
Our cloud platform is PCI DSS (Payment Card Industry Data Security Standard) accredited and is compliant with Bank Negara Malaysia rules and regulations. Ensure all your debit and credit card handling, billing and payment processing are at the highest level of security. Make compliance our job, not yours.
Direct Debit Fees
Waived.
The average fees for the Direct Debit service fees in the market is around 1.5% to 2%. We will absorb the cost. That doesn't stop us in giving you best experience.
By now, you already know BlueDuck earnings in thin margin. We doesn't invest in Marketing, We invest in YOU! We get the best of technology to you. If you like it, help us to share to your social network. We believe in marrying technology with human touch.
---